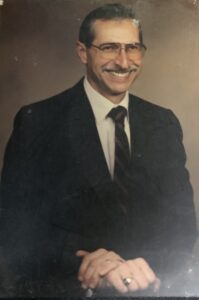 Barnwell – Daniel Csanka, 80 passed away peacefully surrounded by family October 10, 2020. A graveside service will be held on Monday, October 12, 2020 at 11 a.m. at Barnwell County Memorial Cemetery officiated by Dr. Bart Kelley.
Daniel was born November 30, 1939 to the late George and Anna Csanka. He loved history and was very knowledgeable about World War II. He loved traveling and spending time outdoors. He was a loving husband, father and grandfather and will be missed by many.
Survivors include his wife Laura Csanka of 28 years; two daughters, Leda Csanka of California and Marni (Kathy) Curran of Boston; One son Charlie Santos of Wyoming and five grandchildren.
The family wishes to thank Pruitt Health of Barnwell and Kindred at Home for the support and compassion they received.
The family has entrusted Dyches Funeral Home and Crematory with arrangements.