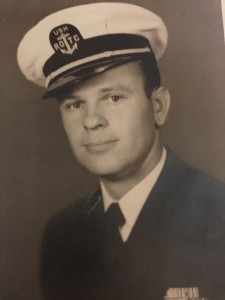 Lee Clement passed away peacefully surrounded by his loved ones in the Veterans Care Center on July 10 in Roanoke, VA at the age of 94.
Lee is survived by his daughter Sandra Shannon, Salem VA, daughter and son-in-law Mary and John McCracken, Richmond, VA, Grandchildren and spouses Travis and Michele Shannon, Salem VA, Adam and Julie McCracken, Powhatan, VA, Kristy and Mark Seredni, Richmond VA, and great-grandchildren Ashton and Chase Shannon, Sydney and Tyler McCracken and Max and Cooper Lee (due December 2017) Seredni. He is preceded in death by his wife Marie Fulton Clement.
Lee was born on February 5, 1923 in Spencer, NC. He joined the United States Navy in March of 1941 and attended boot camp in Norfolk, VA. After completing boot camp, Lee was sent to Boston, Massachusetts where he joined the USS Essex CV-9. In June of 1941, he was shipped out to Iceland onboard the Essex, where he served as the store keeper of the ship's supplies. He would later be part of scouting expeditions and reclaiming islands in the South Pacific in which the Japanese had taken control. In early 1942, Lee was part of an escort for supply ships to Russia through German-filled waters.
Lee met his wife, Marie on a blind date, during a weekend off from classes at the University of Virginia, which he attended to achieve higher rank, when a fellow Navy officer invited him to visit his hometown of Greensboro, N.C. They later married on February 26, 1945 and were married until her death more, than 65 years. After moving to Barnwell, SC Lee began working in the mill services and purchasing industry where he worked at Allied General and Carolina Metals.
Lee was a long time member of First Baptist Church in Barnwell. He was an avid golfer, gardener, horseshoe player and beloved husband, father and grandfather and great-grandfather.
A funeral is scheduled for Friday July, 14 at Dyches Funeral Home Chapel with Rev. Tim Britt officiating. Visitation will begin at 10:00 am with a service following at 11. Burial will follow at Barnwell County Memory Gardens.
The Family has entrusted Dyches Funeral Home and Crematory with the arrangements.