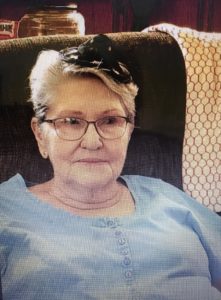 Columbia – Sarah Ellen Waters Forte, 77 went into eternal rest on June 17, 2019. A memorial service will be announced at a later date.
Sarah was born to the late Herman Edward Waters and Edith Christine Durst. She was a loving wife, mother and grandmother and will be missed by many.
She is survived by her loving husband of 12 years, James Preston Forte, Sr.; four daughters, Tammy (Frank) Clark, Columbia, SC, Stephanie Augustine, Myrtle Beach, SC, Janie Forte, Macon, Ga. and Anne (Johnny, Jr.) Parker, Ellaville, Ga. One son, LeGrand (Patty) Wilson, Eastover, SC. Three sisters, Mary Payne, N. Augusta, Ga, Frances Smith, Fl, Becky Atkinson, Ga. One brother, Herman "Sonny" Waters, Aiken, SC. Eight grandchildren and 2 great grandchildren.
The family has entrusted Dyches Funeral Home and Crematory with the arrangements.