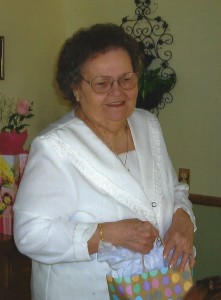 Barnwell, SC – Ms. Ogreta Keller, 89, of Barnwell, entered into eternal rest Monday, August 7th  in Columbia, SC. Funeral services will be held 11 am Wednesday at Dyches Funeral Home Chapel in Barnwell with the Rev. Toby Jones officiating. Visitation will be held one hour prior to service. Burial will follow in Barnwell County Memory Gardens.
Born in Barnwell County, Ms. Keller was the wife of the late John F. Keller and the daughter of the late Isadore and Corey Croft. She was a member of Holland Ave. Baptist Church. She was a loving mother, grandmother, and great-grandmother. She will be missed by many.
Survivors include one daughter, Barbara (Donald) Tudor of Trenton; one son, Mark (Pat) Keller  of Cayce;  two sisters, Vernette Elkins and Juanita Hair, both of Barnwell; five grandchildren, Derrek Tudor of Trenton, Stephanie Cottrell (Matthew) of West Columbia, Kelley Keller of Lexington, Stacy Sanders and Jeremy Sanders, both of Barnwell, and four great-grandchildren. She is predeceased by three brothers, Alvin Croft, Bobby Croft and Elbert Croft.
Pallbearers are Derrek Tudor, Logan Tudor, Matthew Lybrand, Sammy Hutto, Jeremy Sanders and Jimmy Gleaton.
The family has entrusted Dyches Funeral Home and Crematory of Barnwell with the arrangements.