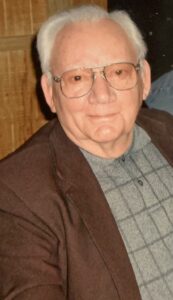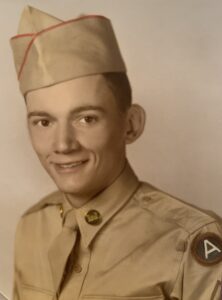 Barnwell – Franklin Dunbar Peters, 88 years of age, went to be with his Lord on September 23, 2020 after a brief illness.
A graveside funeral service with Masonic rites will be held Thursday October 1, 2020 at 11:00 a.m. at the Barnwell County Memorial Cemetery with Dr. Bart Kelley officiating. A public viewing will be held from 5 p.m. – 7 p.m. on Wednesday, September 30, 2020 at Dyches Funeral Home, Barnwell, South Carolina. Due to the current pandemic and CDC regulations, social distancing and other guidelines will be in place; facemasks are required.
Frankie was born November 1, 1931 in Blackville, South Carolina to George Frank Peters and Ruby Bates Peters. He was a graduate of Blackville High School. He served during the Korean conflict in the U.S. Army from 1953-1955. During his tour he was stationed in Germany. He was married to Nell Creech Peters for 57 years. He attended First Baptist Church Barnwell for all of his adult life. Frankie was a member of the Barnwell Airport Commission for over 30 years. He was also a 67 year member of the Harmony Lodge 17 AFM, a member of the Scottish Rite, and a member of the Omar Shrine. At an early age, Frankie was interested in fixing things and his love of tinkering with mechanical objects and machines was a lifelong passion. He had a truly mechanical mind and he took the time to understand how something worked in order to be able to repair it correctly without guessing. In high school, he started repairing bicycles. This led to installing Whizzer Motors on bicycles and a job at Brown Motor Company in Blackville. Frankie loved telling the story of taking the motorized bikes to Augusta to visit family and to get Krispy Kreme doughnuts.
After his service in the Army, He worked at B&B Ford in Barnwell as a salesman. Then he opened a garage with two of his good friends. Later, he added the parts store, "Auto Supply and Service" which has been in operation for 58 years. Even after retirement, he still visited the parts store almost daily to help out and visit with customers.
Frankie became a pilot and loved attending fly-ins all over the state and country. He and his airport friends enjoyed being at the airport and flying around locally. When they weren't flying, they would often sit in the airport office just to talk about the past, present, and future.
He was rarely on time, yet was always the last to leave. He was an avid storyteller, a stickler for the details, and loved a good conversation between friends. He loved telling tales of old Blackville, history, the war, and his travels-especially his airplane trips. He loved sharing every last detail of those adventures and all of his knowledge with his four grandchildren, especially his German vocabulary. Specifically for his grandchildren, each has a special nickname and he never left them or closed a conversation without saying "Auf Wiedersehen," which means "Goodbye, until we meet again."
Frankie is survived by his wife Nell Creech Peters of the home; a son, Michael (Heather) Peters of Barnwell, South Carolina and a daughter, Fran (Tom) Peters Yonce of Overland Park, Kansas; Four grandchildren Jordan Tyler Yonce, Kyle Garrett Yonce, Kayla Renee Peters, and Geoffrey Michael Peters.
Memorial contributions may be made to First Baptist Church Barnwell Van Garage Fund. Pall Bearers; Jordan Yonce, Kyle Yonce, Geoffrey Peters, Ricky Grimes, Jim Fickling and Barry Creech
The family has entrusted Dyches Funeral Home and Crematory with the arrangements.