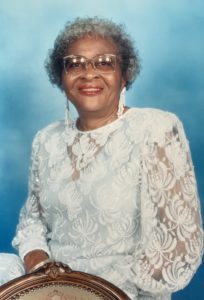 Barnwell – Ida Lee Wallace, 89 went to sleep on May 20, 2020. A graveside service will be held Tuesday, May 26, 2020 at 3:00 p.m. at Barnwell County Memorial Cemetery officiated by Gerald John and Darryl Moore. A visitation will be held from 11:00 a.m. – 1:00 p.m. Tuesday, May 26th at Dyches Funeral Home
Ida was born in Barnwell, SC and grew up in Lynbrooke, Long Island and later returned to Barnwell. She was the daughter of the late Aron Simms and Elease Monterio Simms. She was a member of Jehovah's Witness Kingdom Hall of Barnwell, SC. She was baptized September 17, 1983 and Pioneered on September 1, 1984. She worked for the NYC board of Education as a school lunch manager for over 25 years. She loved cooking and her passion was serving Jehovah and others. She was a loving mother and a friend to everyone and she will be missed by many,
She is survived by her daughter Sharon Wallace of Barnwell; two cousins, Katrina Allen and Teresa Dunn of Brooklyn, NY
She was predeceased by her late husband William Marvin Wallace and two daughters, Sandra and Rhonda Wallace. One brother Antonio Monterio and her sisters Delores Monterio and Joan Walker.
Her family would like to give a special thanks to the caregivers and her spiritual brothers and sisters of the Kingdom Hall of Barnwell and New York for their love and support.
The family has entrusted Dyches Funeral Home and Crematory with the arrangements.