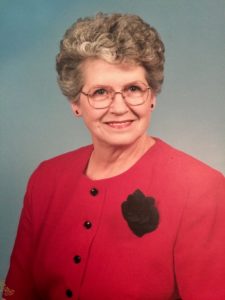 Williston – Reesie Rabitsch Turner 83, went into eternal rest surrounded by family June 13, 2019. Funeral services will be Saturday June 15, 2019 at 2 p.m. at Elko Baptist Church, Elko, SC, officiated by Rev. Tom Baker. Visitation will be one hour prior to service. Burial will be at 5:30 pm at Elam Baptist Church cemetery, Millen, Ga with the Rev. Joshua Johnson officiating.
Reesie was born in Millen, Ga to the late Wallace Dean and Mary Rabitsch. She was married to the late Paul D. Turner. She attended Elko Baptist Church. She loved sewing, gardening and bird watching. She was a loving Mother, Grandmother and friend and will be missed by many.
She is survived by her four children, Faye (Dean) Dailey of Millen, Ga, Paul Turner of Salley, SC, Andy (Karen) Turner of Aiken, SC and Alan (Laura) Turner of Williston, SC. She also is survived by one sister Nell Catrett of Millen, Ga; eight grandchildren, Dee Dailey, Joy Sylvester, Jodie Folk, Melody Turner, Drew Turner, Ali Turner, Shane Turner and Kaitlyn Turner; and four great grandchildren, Mary Benton, Dailey, Mackie and Noah.
She is predeceased by her brother Jimmy Rabitsch.
The family has entrusted Dyches Funeral Home and Crematory with the arrangements.